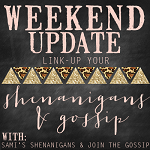 We had a busy weekend! Friday night Chris and I left baby with my in-laws and headed up to Hartford to see the rock band The Used at Webster Theater. It was definitely very loud and I felt a little out of place in a gold sparkly shirt in a room full of black hoodies and piercings but I love the music so overall it was a blast!
Outfit for the night
Top/ Express
Jeans/ Loft
Shoes/ Steve Madden
Necklace/ Kate Spade
The Used
Saturday I headed off Hartford way again to go bridesmaid dress shopping with my best friend. She is getting married in September in Vermont and I could not be more excited! We got lots done, she picked her dress, bridesmaid dresses and flower girl dresses. It was a very productive day. I am going to start writing about her, my other best friend's and my brother's wedding this Wednesday. It's defiantly the year of the wedding! More about that later this week!
Then Sunday morning I hosted a playdate for two of my best friends and their babies. It is so fun to see the kids growing up together! The other little boy is actually my husband's first cousin's son! We live in the same town, and are thrilled the boys will grow up going to the same schools and in the area. Its like your first built in friend!
First guitar lessons with Daddy!
Later Sunday afternoon we had a few of our friends over to watch the Super Bowl. It was ver relaxed and fun, love having it at our place rather than a bar!
First off, how beautiful and moving was the Sandy Hook Choir. I was in tears before they even started singing. What a wonderful tribute and way to show the resilence and hope of children. I have said before we live about twenty minutes from Newtown. I can say for certain it has changed our communities in Connecticut forever.
It was a great game but the best part...The halftime show! How amazing was Beyonce...
And a Destiny's Child reunion! Dream!
Happy Monday Everyone
xoxo
Katie
And Patrick!