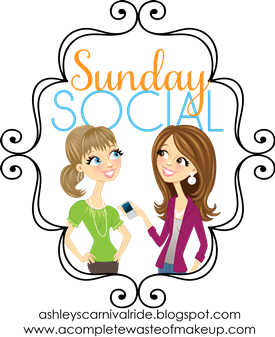 Today I am linking up with Ashley over at Ashley Lately for the Social Sunday Link Up!
1. If you where stuck on an island what are the two material items you would want to have?
I think if I was stuck on an island the two items I would need would be first my iPad! That kind of rolls computer, TV and book altogether. Also I would need a blow dryer, but not sure if they have outlets on a deserted island.
2. What are two TV shows you'd watch over and over?
The West Wing and Sex and the City
Both are great, long running and incredibly well written shows. I own both series on DVD and they are what I call my sick time standards!
3. If your house was on fire, what two things aside from family, pets, etc would you grab?
The bear I had made for Patrick with my Mom's clothing and my jewelry box. I lost my Mom to cancer 7 years ago and basically anything that was hers I would want to grab.
4. What are your two most favorite articles of clothing?
A Navy blue lace dress I wore to my cousin's wedding this Fall, it was so pretty, a classic fit and I know I'll be wearing to lots of other events.
A black cardigan, I wear these all the time, over dresses, with jeans, it is a wardrobe staple!
5. What two movies that you saw in the past year would you recommend to us?
Pitch Perfect
The music was so great and such a funny movie! I just loved it!
Trouble With the Curve
Justin Timberlake, need I say more...